Welcome to Lauren's Lovely Kitchen
---
This is the blog space where my daughter Lauren will be sharing her culinary inspiration. Read on to find out more about her passion for all things food-related!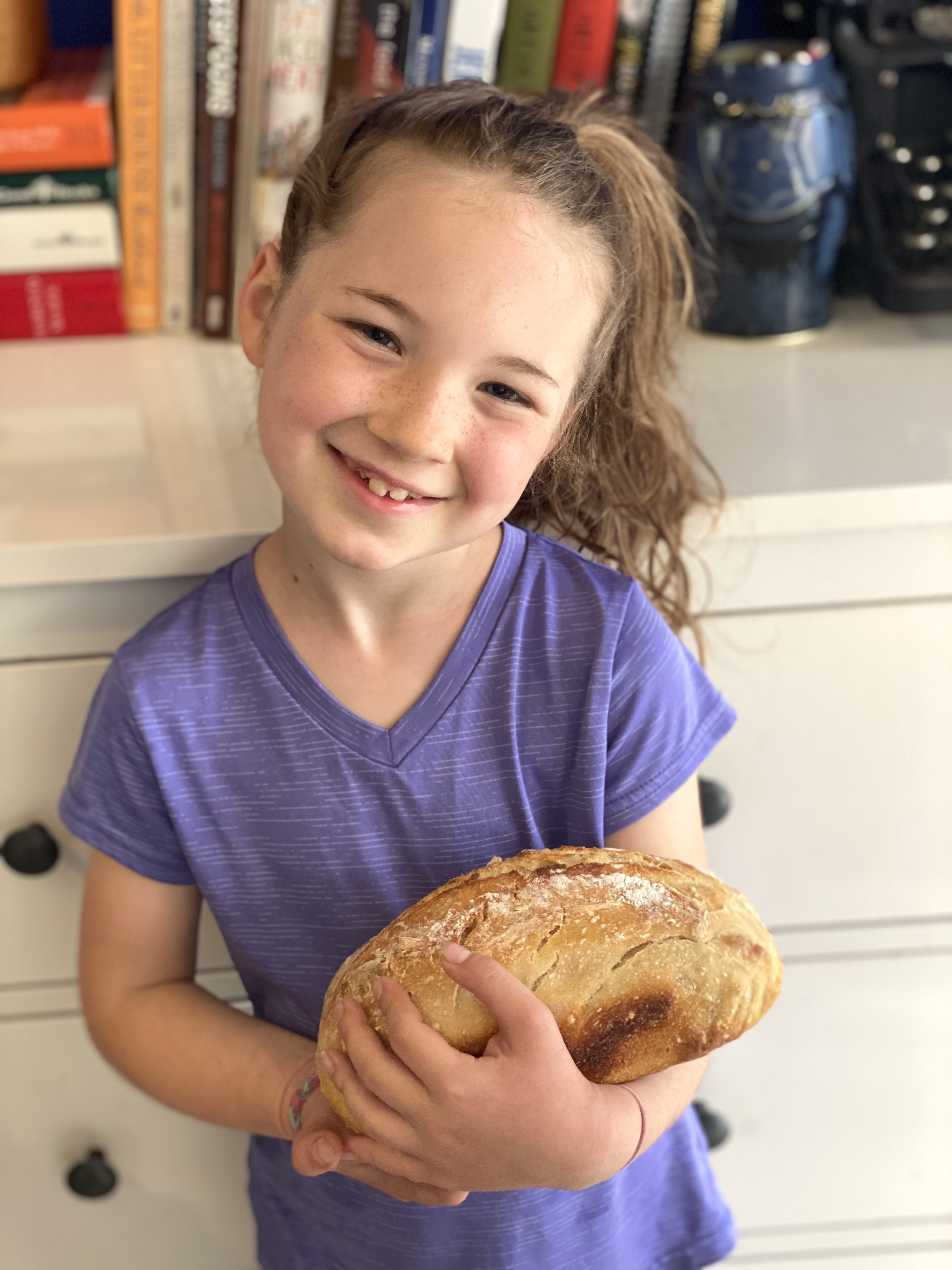 In November of 2020 during a family dinner, Lauren mentioned casually that when she grew up, she wanted to be a cook and share her recipes on the internet. I said, "Oh, you want to be a food blogger!" Not knowing what a food blogger was, I described the idea to Lauren who was immediately hooked on the concept. So I told Lauren, that if she was still interested in food blogging by her 8th birthday, I would set up a food blog for her. Every day since, our family has been hearing about the promised blog, and has observed Lauren's dedication to food preparation grow!
Now that Lauren's birthday month has arrived, I'm delivering on my promise, and am setting up her food blog via my website. She's decided on the name "Lauren's Lovely Kitchen" which suits her perfectly as she appreciates not just the art of food preparation, but also the beauty of the kitchen, the raw ingredients, and the implements needed to prepare her creations.
Here you'll get a peek at her culinary journey, beginning typing skills, food photography exploration, farmer's market trips, and more.
Stay tuned for a biography by Lauren herself and her adventures in the kitchen!
Happy Birthday Lauren!
 "It's around the table and in the preparation of food that we learn about ourselves and about the world." –Alice Waters
Lauren's Biography
Lauren, this is where you'll introduce yourself to your readers and share more about why you love to cook. You can talk about what you love most, why you want to share what you create with others, and where you get your inspiration from. We love you and hope you enjoy learning about food, its origins and its possibilities as much as we do. Happy Birthday! Love Mom & Dad

"No one's born a good cook. You have to learn and practice."
-Samin Nosrat, Author of 'Salt, Fat, Acid, Heat'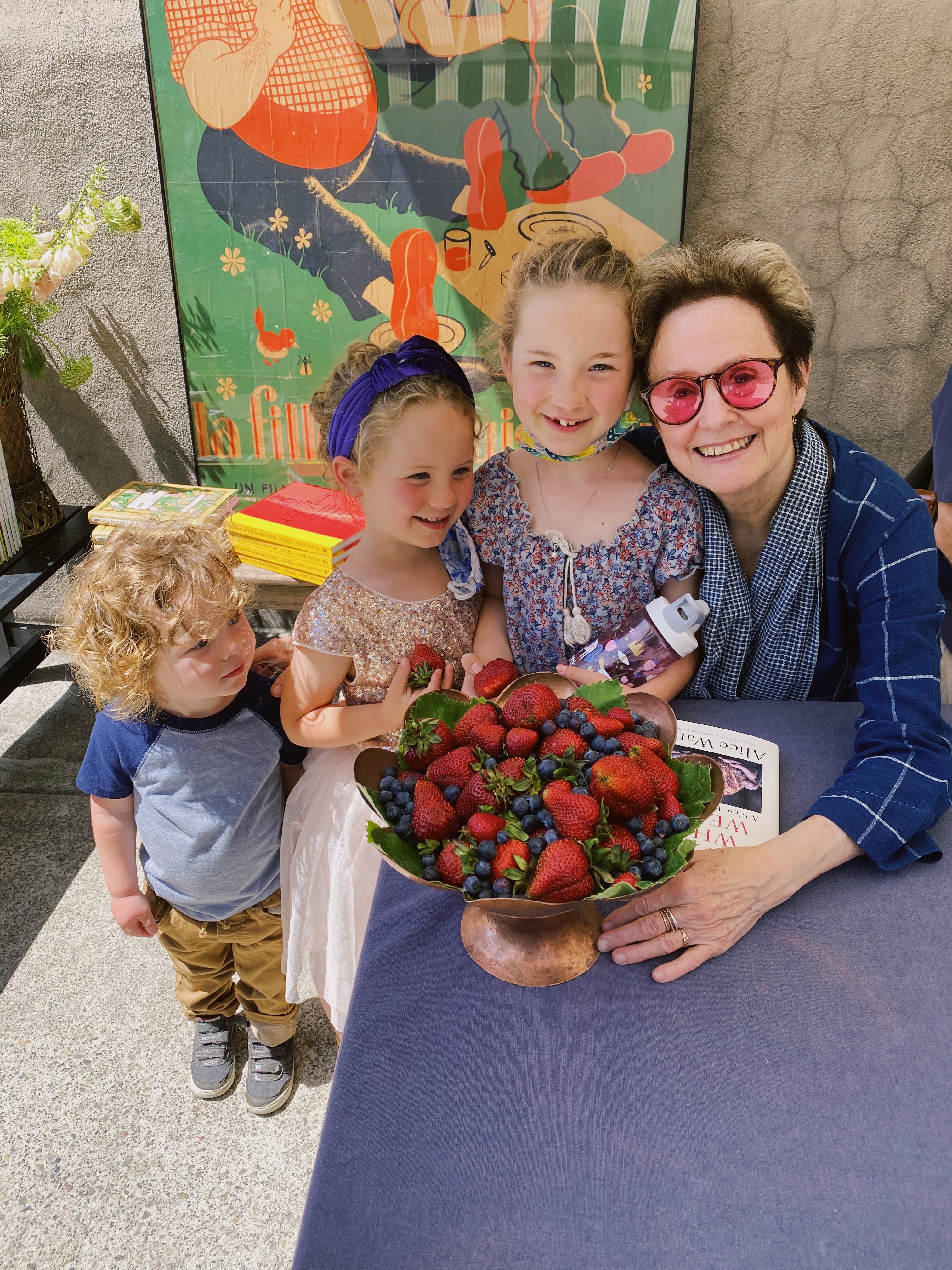 "Meeting Alice Waters was an amazing experience.  I loved the way she wrote her book. I was very exited  because I had wanted to meet a real chef for a long time so it felt like a dream come true." –Lauren 
"The more you know, the more you can create. There's no end to imagination in the kitchen."
— Julia Child
Zucchini Raisin Muffins (adapted from Marthastewart.com)
Some times I bake moms muffins. They are zucchini rasin muffins .I did them for a friend of mines birthday party. They where a big hit. My friend Piper said that they where probable her favourite. So that is a hint for if you ever look on Laurens lovely kitchen. And now I will give you the recipe.
(Recipe typed by mom, adapted from www.marthastewart.com)
Ingredients
Non-stick cooking spray like coconut oil
1 3/4 cups all-purpose flour
1/2 cup ground flaxseed
1 cup lightly packed brown sugar
2 teaspoons baking soda
1 teaspoon baking powder
1/4 teaspoon coarse sea salt
1 teaspoon ground cinnamon
1 large ripe banana
1 1/2 cups grated zucchini
1 1/2 cups raisins (soaked in water for 10 minutes then drained)
3/4 cup whole milk or half and half
1 large egg, beaten
1 teaspoon vanilla
Directions
Pre-heat oven to 350 degrees Farenheit
Lightly coat muffin cups with cooking spray.
In a large bowl, whisk together flour, flaxseed, brown sugar, baking soda, baking powder, salt, and cinnamon.
In separate bowl, whisk egg, milk, and vanilla together. Add zucchini, raisins, and mashed banana. Store together.
Pour wet ingredients into bowl of dry ingredients and mix batter until dry ingredients are folded in. Do not overmix.
Divide batter among muffin cups.
Bake 22 minutes until tops are golden.
Let muffins cool in the pan on a wire rack.